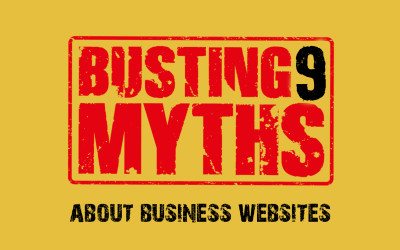 12 Dec

Top 9 Myths about Having a Business Website

In this day and age, going digital is not a question of "if" but "when". What are the common misconceptions business owners have when considering to have their first website made? Here are the top 9 most common myths entrepreneurs have, that can hold them back from making that first step into creating their online presence.
Myth #1 : I do not need a website because I don't have anything to sell online.
There are more than a handful of ways you can make use of your website and sales and marketing are not the only aspects which can benefit from it. Owning one will help you gain credibility and trust, lessen your overhead expenses, expand your customer reach, improve customer service and many more. After all, whether or not you will have an e-commerce feature should not determine the need for a website. Treat it as your digital real estate property, why rent when you can own?
Myth #2 : A website is just an online portfolio.
Most people think that business websites are only used to showcase the company profile and product or service offerings. However, you can maximize the use of your website and turn it into an asset and can make work easier for you, be it in sales, research and development or any aspect of your business.
Post some helpful instructional videos, or the latest news about promos and events, announcements about reviews, awards or commendations from your clients/peers/professional organization, post articles geared towards topics your audience want to learn from you. Post Job openings, real estate listings, or chat with your online customers. literally you can do so much with your website beyond selling.
Myth #3 : Once I get a website, results will start showing up.
Wrong. Chances are your website may still not be visible at first. Now with over 1 billion active websites, yours may not be detected on the first page of the search list. Make sure your website is ranking high in search engine by the use of search engine optimization techniques.
Once your website starts getting traffic, make sure to maintain and benefit from it by maximizing its use. Level up on your content marketing by adding helpful articles, photos and videos or any content that are interesting and relevant to your audience, just make sure to include the "search keywords" in your articles. Search keywords are terms that the user enters into Google to find your website.
For example, a shoe retail store can publish an article with the search keywords "rubber shoes philippines" embedded into their article. This will help their website rank higher on Google Search, which will increase their visibility in search results, increasing the likelihood that the user will click and get redirected to their website.
Myth #4 : I need a mobile app to reach mobile users.
Not necessarily. Having a mobile-responsive website is sufficient enough to be viewable through your customers' smart phones. Mobile application is costly and needs supervision and maintenance. Having a mobile-friendly site will save both your time and money. Mobile apps and mobile-responsive websites both can only be used with an internet connection after all. Unless you have a game or expanded features such as QR readers, coupons, etc, your website will suffice.
Myth #5 : Once my website is published, I'm done with the work.
Like every finished product, your website needs some quality check. You have to constantly update the content, ensure that all links are working, inspect for spam and typos, and double check all the features that you have installed. Create a checklist for all the things that you need to accomplish in your website.
Myth #6 : I need to have music, games, and cool animations to keep my viewers entertained.
While It may be fun to put multimedia such as music and games in a website, these slows down the loading time of the website since these kinds of media carry heavy files. It is okay to put those as long as it is relevant to your audience. Nevertheless, you don't have to put embedded media if it's not necessary for your message because it compromises the loading time of your website. Remember to keep it short and simple.
Myth #7 : Websites lack personality.
Readers want to feel that who they are interacting with is a real person. The website, if not thought of carefully, may result to looking like a machine attending to your needs. But you can bridge the gap by adding personality into your website and you can do this by having a blog section so you can inject personality into your post and have a unique voice in the way you talk. You can also add an author profile at the bottom of every article. Or even install a Live Chat so you can interact with your online viewers.
Myth #8 : Creating a website is easy. I can build my own.
There are a lot of engines out there that provide a do-it-yourself solution to your website needs. However, to have a professional-looking and working website, you need digital marketing experts to create your message, aid in visualizing a customized design that fits your branding perfectly, and a development team to ensure that your site runs smoothly, is  mobile-responsive, optimized, fast-loading, and make sure that your website is always in tip-top shape.
Myth #9 : Having a website is awfully expensive
&nsbp;
Having a website will minimize your cost as you can integrate marketing, customer service, research and development, and other business processes into your media property. It can serve as a one-stop-shop for your enterprise. In fact, it is extremely affordable compared to traditional advertising expenses and yields a great return of investment. With the help of your website, you can actually track who sees your digital activities, how many people purchase or inquire, where they came from, and what time they are active as opposed to traditional marketing. It's cost-efficient, getting all the data with just a click on the mouse. If you turn it into an asset by maximizing its use, you would not consider it as an expense. It only becomes a source of expense if you don't utilize the benefits it can give you.
Got more website myths you know about? Tell us in the comment box!
< Back to Blog                                                                                                         GET A FREE ASSESSMENT >