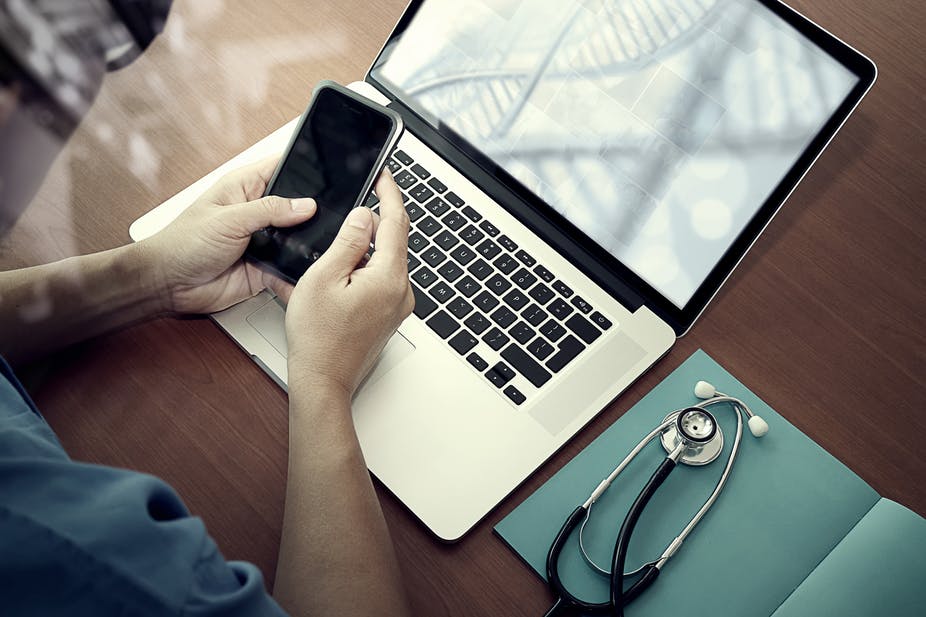 22 Nov

The Doctor is Online

Admit it, what is the first thing you do when you wake up? Check your phone, right? Looking at how many people liked your post about the epic dinner you had last night, or how many people have commented on a hot topic you shared on your feed. From a supposed luxury, social media has now turned into a necessity of every man. Using social media is now a part of every person's daily routine that it has become an essential tool to survive daily life.

Out of the  Philippines' population of 102 million people, 60 million of which are internet users, and 40 million are active social media users. The average Filipino netizen also clocks in an average of 26 hours of internet usage in a week. The Philippines is number 1 in terms of time spent on social media compared to the whole world, spending an average of 4 hours and 17 minutes per day on social media sites such as Facebook, Twitter, and Instagram. Filipinos have adapted to digital faster than usual because of improved access caused by the emergence of more affordable cellular data plans, the decrease in price of smartphones, and people having more purchasing power compared to the previous generations.
Social media and healthcare.
72% of internet users from the past year search the internet for health information online and 88.79% of those use any source to get information. Public health institutions can take advantage of this booming social media usage for increasing public health literacy, improving care coordination, and most importantly, disseminating timely and relevant health information.
Here are a couple of ways health practitioners and institutions can use social media:
Provide information during emergencies and calamities.
In times of typhoons and calamities, health agencies and government institutions must post advisories and warnings via social media, especially Facebook, as most of the public users are on "free data", which makes Facebook more accessible to the public. Not everyone will have a TV or radio with them, but there is a high likelihood that constituents will have their personal phones with them.
Educate the public by posting infographics and video health advisories.
Health practitioners, agencies, or institutions can use their social media pages to post infographics on latest health management strategies or health promotion techniques. An example of which is The Medical City's Facebook page which consistently shares infographics on certain health conditions.
Conduct a live chat or live video session with a specialist.
Doctors, and specialists can host a live video session while examining and diagnosing a patient (with the patient's consent, of course) so that users who are watching could also pinpoint their symptoms and may be encouraged to seek medical help. As for health promotion, a general practitioner could also answer questions from the followers from the comment section or speak with a specialist as a facilitator between patients and the health providers.
Combat "fake news" by posting facts to disprove claims.
Nowadays, "fake news" or misinformation is very common in social media. How many times have you seen an article stating that garlic can cure cancer, or that putting onions in your socks can help with the flu? While some MAY have a possibility of being true, most of the things you read in the social world are not. Health organizations can debunk these myths by counteracting these with facts.
Warn the public about unregulated medicine and product recalls.
When safety is concerned, urgency is key. Product or medicine recalls should be announced right away to ensure that people stop using these dangerous or unregulated products that can potentially harm them.
Facilitate groups chats or tweet chats.
The best thing about social media is that it breaks down the invisible walls that professionals build up and makes them more "human". Seeing as doctors, nurses, researchers, therapists, and other health professionals barely have time to take a break, socialize, and discuss important issues, joining group chats or tweet chats forms a sense of "brother or sisterhood" that not only nourishes the mind, but also expands their social network.
Continuing Education.
Joining medical-related groups on Facebook or joining twitter chats can also aid in communicating with health professionals what the latest research findings are, or recruit volunteer subjects for current research works. It's the most casual way of learning from fellow practitioners in the field.
Encourage user-generated content.
Promoting the message of health and a good overall well being requires the combined efforts of health agencies, institutions, professionals, and of course, the general public. Ask followers to post and share a certain topic while using creative hashtags. This will not only help you gather content for your promotions, but it will also spread the message organically among the users' friends and family network. A great example of this is a campaign for heart month by the World Health Organization.
Book appointments, send contact details, and send reminders to patients.
If your clinic or agency is active on social media, you can message your patients to remind them of their next appointment. For public agencies, you can give the corresponding contact information to the concerned department to facilitate inquiries. For some private clinics, they can even send coupons for a free or discounted service that their followers can claim upon visiting.
Form a community of health advocates.
In an ideal world, the world has no walls, and free flow of accurate, timely, and relevant information is readily available for all. The beauty of social is that word spreads like fire. Once a message is well received, it can reach millions at a time. Communities take time to build, so no time like the present to start.
Drawbacks and Counteraction
While social media may seem easy enough to manage, this tool may come with a price as certain problems may easily arise concerning security and hacking of accounts, bureaucratic length of time for post approvals from supervisors, posting of profanity and vulgar language from followers of the Page, expression of personal issues with any health professional on the Public domain, and of course, the big probability of human error that can result in misinformation. The big question and perhaps the most common question, is "how to we manage these risks"?
To address these concerns, public or private agencies must draft a proper social media policy and ensure that proper training is given to staff handling the accounts. They must also ensure security by providing access to a supervisor instead of having only one person to manage the accounts, to ensure that even in the absence of a proper turnover when the assigned manager leaves the institution, the organization can still have access to the accounts. Basic security measures must also be implemented such as using unique passwords, limiting access to devices used to login to the accounts, and using a secured wifi connection when logging into these accounts. Supervisors can also pre-approve contents that will be posted to ensure the validity and accuracy of the information to be shared.
Social media may be considered as a volatile tool to use for public communications, however, with strong safeguards, policies, and trainings in place, it can transform how agencies can communicate and relay messages to the information-consuming public. There is a lot of potential waiting to be explored with social media and possibilities are endless, if you know how to maintain the balance between sharing and regulating content, you can make the world a healthier place, one post at a time.