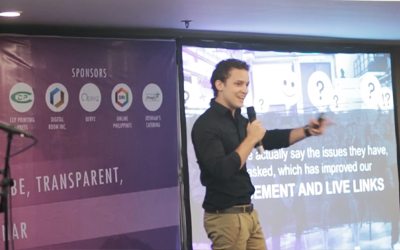 24 Jan

The SEO Summit 2015 Recap in 10 Words!
It's that time of the year again! The SEO Summit 2015 has come and gone, and what has stayed are these take aways from the trio of speakers and seasoned experts in the industry. Following the successful seminar-type conference of last year, the SEO Hacker team organized the SEO Summit 2014's sequel. Sean Si, CEO and co-founder of Qeryz and SEO Hacker, provided an avenue for SEO enthusiasts, marketing managers, and business owners to learn and talk about the importance and relevance of Search Engine Optimization to businesses.
This year, Online Philippines is in partnership with SEO Hacker team and a part of the 250 people who made up the entire event. We are more than happy to share what we've learned with all of you. Let's start the roundup by introducing the speakers:
Sam Nam, the Vice President of Marketing at Digital Room, and Grant Merriel, the founder of Coops and Cages, joined Sean Si to deliver the discussions on business processes, thought leadership, and, of course, SEO. The speakers were spot on with their talks and threw idea-generating and thought-inducing points at us. If they are representing what the SEO industry is, then we are in good hands. They covered a lot of important topics, but we've wrapped them all in ten words:
1. Investment
It is important to know if your money is returning to your pockets.
Investment is where you roll the dice; it isn't always exact in its results, but the rule of thumb is, if investments make more money than they cost, then you are doing good. Online presence is a huge deal now that investing in a website is no longer voluntary, but rather a necessity to your business. Now, how do you find someone to trust your money and handle your online affairs with?
You can hire your own web developer to handle your website, outsource and find a digital marketing agency, or pay a freelance developer. A good investment, however, is hiring the one that has more guarantee of being professional and backed by legal protection. Be wary of freelance developers who may offer a good price but may not deliver in terms of quality, professionalism, or value for money.
2. Network
The business industry is a huge pond for you to find connections from.
Much like investing money and effort on your business, investing on a good relationship is just as important too. Expand your network by going to events, seminars, training sessions that will connect you with people from different industries. As a business owner, your connections are what will keep you ahead of your competition. As Grant Merriel has stated in the recently concluded SEO Summit, "Great businesses have over 20% of their income coming from referral sources". So make sure to keep your lines of communication open. A way to meet and keep your future partners is through the referral of the people you already know.
3. Foundation
Build a good foundation for On-Site Optimization in your website if you want to build something great.
A huge part of your website's foundations is its search engine optimization (SEO) framework. SEO allows webmasters to translate your website more effectively for both users and search engine robots, allowing your page to rank higher in search engine results. According to Sean Si, "your entire SEO structure depends on how good your on-site optimization is." On-site optimization is technically anything that you can change on your website, such as titles, keywords, URL add.  If these get too technical for you, there are SEO technicians and digital marketing willing to help you build a great foundation on your website. Build it right from the start and save yourself the headache of troubleshooting next time.
4. Elements
How to better utilize the elements of your website.
Elements are items or features that make the entirety of your website. These can also be considered as the building blocks; some examples are the URL, layout of the website, heading tags, keywords, and the content, like image and text. There are more than a few things you should consider when you are ready to launch your website. Here are a few need-to-knows for you, because whether you hire a web developer or not, it's important to understand how your website works:
The URL. Does the URL of your website tell the name of your business? Your URL is like the name tag you will show web browsers. The matter of your site URL also extends to your social media handles. Is the name of your business cohesive to the website when translated to a Twitter or Facebook username? It is important that people can recognize your brand name whichever social platform they see it from.
The Title. Your titles should be descriptive and shareable. This falls on the hands of your writers. Will they be able to deliver your content in a compact and suitable manner that reflects the nature of your business? Is your title interesting enough to catch interest? Is it giving the right impression to your audience? Keep in mind that your title will be the first thing your users will read when they search for your products or services. If your URL is the name tag, then your title is the first impression.
Now, let's talk about the URL of your website pages. Make sure that the blog or page title shows in the URL of the page, and not just what web developers call "ID tokens". For example, instead of having a long chunk of text generated for a page (example: www.yourwebsite.com/1fC4oyUg3CwRD_uZI5V9bn/), you can have your SEO to put on your page title (ex. www.yourwebsite.com/about-us/). Something as simple as titles aren't supposed to have such a specific science behind it, but it is an essential element of your website. Make it work for you!
The Meta Description & Meta Keyword. Meta description is an excerpt that describes a web page to search engines such as Googlebot. It is the short description you can see under the title when you are searching on the web. The importance of your meta description ultimately falls down to this: It is your last chance on getting a user to visit your page by telling them you have what they are searching for. Meta keyword, however, works behind the scene. It is the "tags" you can input in the HTML code of the web page to tell the search engine what the page is about. The two work hand in hand to bait your audience– your current visitors are able to reach you because of them.
The Backlinks. The backlinks, also known as Inbound links, indicate the popularity or relevance of a website. Backlinks work when other websites write an article or blog that references back to your own content. Now, this works in your favor because search engines calculate the relevance of your meta keywords based on the quality of your inbound links.
Image Optimization. Adding images to your website should be done correctly—it is not just uploading the right image size so your page loads correctly. Image title, filename and alt text also counts. These three factors will get your images on image search better and subsequently, link back to your website.
5. Keywords
Building bridges with your tags.
We're back on the meta keywords! Again, the meta keywords used on your website will be the bridge your potential visitors will have to find it. These keywords are the very words that your customers will type in the search box when looking for a particular product or service. Keywords are more important nowadays as businesses get more competitive and creative in how they deliver their content. The right set of words will put your website above others on search results.
6.Ranking
What it takes to put your content out there.
Content is no longer the king. It now falls under other website elements such as URL and title tag when being reviewed by search engines for search optimization. Ideally, a website with good foundation plus good content paired with all the right elements should help you rise to the top of search engine results.
7.Pitch
The right thing to say.
Although content is no longer the most crucial part of making a website, it doesn't mean it is altogether irrelevant. Content is the reason why your visitors will stay on your website.
There is also the matter of knowing how to say it. What does your market need to know about your business? What do you want to show them? How are you going to showcase your products?
8.Schedule
The right time to say it.
We should have learned this a long time ago– timing can be deadly. Once you are done crafting the idea you want to share to your audience, you can now schedule when you'll give it to them. Just as you should avoid e-mail blasting on the wee hours of the night, you should also consider the best time to post on social media outlets. Social media has continued to grow worldwide that social media advertisements are being treated as a necessity. Identify your audience and their behavior– What time do they go online? What time do they delete e-mails?– and learn to shoot the arrow right to its target.
9.Conversion
Turning visitors into profit.
"Conversion is the act of converting site visitors into paying customers." Sean explained. If you have a low conversion rate, it might be a sign that you have to update a little. Companies that have a structured approach towards conversion are twice as likely to see a large increase in sales.
Your business is expected to catch up to the trends or be left behind by your competition, which is already tirelessly running after your market. Two of the methods that can result to conversion are your call-to-action features and unique value propositions. Visitors should know right away what kind of business they can do with you, why should they, and how could they.
10.Winning
Build your website and watch it work for you.
Every part of your website counts—from the content to the images, down to on-site optimization. All the elements in your website can affect its ranking; if it so happens that your meta keywords aren't matched with your post, then users won't be able to find it. Build your website brick by brick, element by element, and let it grow.
That's it! The ten words that encapsulated what we learned from SEO Summit 2015. It is definitely a lot to take in, but it's definitely worth to know as much as you can to further develop your website. The importance of your online presence can't be overstated now. More and more people are relying on the world wide web to look for the things they need.  And SEO Summit 2015 has provided us insights to better understand and appreciate digital marketing and the art of SEO. Now is definitely the best time to turn your website into a lead generator and gain edge against your search competitors!
To hear a recap of what happened during the summit, watch the video HERE.
< Back to Blog                                                                                                         GET A FREE ASSESSMENT >