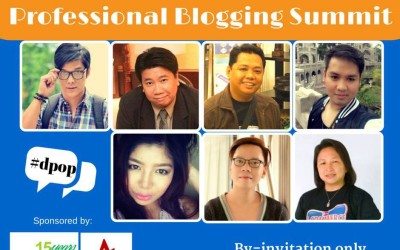 24 Jan

Professional Blogging Summit 2015

Blogging has been such a big part of the formation of social media. Even before Facebook, Twitter and Instagram was born, people have been blogging since the 90's. From what started as a personal "online diary", to what can now be known as a content engine for businesses, Blogging has created a whole new professional career field and opened up business opportunities for budding digital entrepreneurs.

In line with this, we're so excited to be going to the PROFESSIONAL BLOGGING SUMMIT happening tomorrow, October 18, 2014 at A. Venue, Makati. This invitation-only event is said to attract bloggers, social media specialists, marketing gurus, and entrepreneurs nationwide. This event will be an exchange of ideas, experiences and tips, from one professional to another.

Topics from this summit will include:

1) Maintaining a Professional Bloggers and Social Media Specialists Network

2) Getting Clients, Professional Blogger Ethics, and Maintaining Goodwill Relationships

3) From Blogger to Blog Celebrity

4) From Bloggers to E-Commerce / Social Media Entrepreneurs

The Online Philippines team will definitely be looking forward to meeting some great people at tomorrow's event, so we'll see you all there!