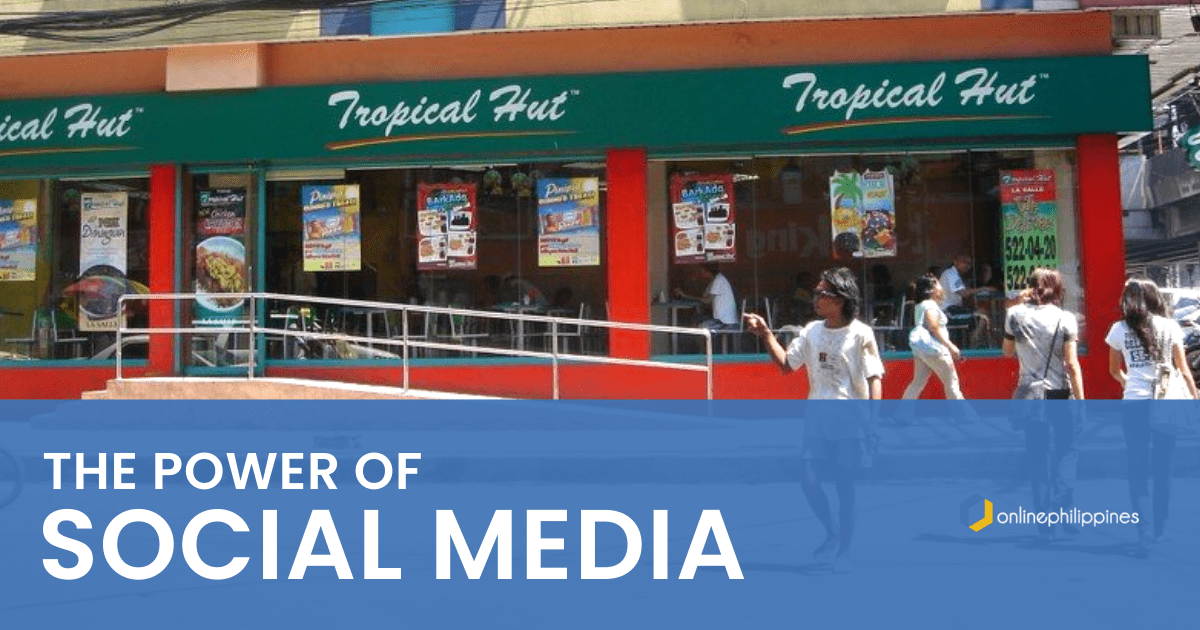 07 Jul

The Power of Social Media for Tropical Hut: Reviving an Oldie but Goodie

From zero to sold-out. The empty and quiet stores of the classic 57-year-old Tropical Hut made it seem like the once hottest burger joint in town had already been forgotten. But just recently, customers have poured in—all after the fast food chain earned buzz on social media with fond Tropical Hut memories brought up by netizens.


JP Tanyag, a stock analyst, first posted on Twitter an image of the burger chain's Escolta branch, mentioning, "Ako lang ang customer nila." He even shared how he and his family used to eat out in Tropical Hut along Baymart Plaza in Lower Bicutan back then. The tweet soon sparked nostalgia among social media users and went viral, and was then followed by numerous netizens who also reminisced their moments growing up with the fast food chain.

Established in 1962, Tropical Hut has been known to be an institution of the Philippine fast food scene. Much like Jollibee and McDonald's, this brand was popular for being a family-friendly food place that offers affordable prices. Few decades later, it has still stood, although its popularity has waned after being overshadowed by newer and much more global competitors.

But thanks to the power of social media, Tropical Hut is back on track.


Just a few days after the viral tweet, the burger chain has seen a surge of customers in stores, while clips of Grab drivers lining up for Tropical Hut orders also filled the social media. Due to this, the brand even announced as of June 20 that they are facing a shortage of supplies.

Tropical Hut has been around in the Philippines since the 1960s but was mostly forgotten by many until one tweet made it viral. Now, people are lining up for its burgers (and more) once again.

What are your favorite memories of Tropical Hut? pic.twitter.com/mdyRPqX11e

— VICE Asia (@viceasia) June 27, 2022
Metrics like audience size, pageviews, among others are important, but consumer sentiment is much more crucial for brands nowadays. People want to feel connected and emotionally positive toward your brand—and it all boils down to how you show sincerity and authenticity on your organic marketing strategies. Now the challenge lies with Tropical Hut, they have been given a boost on social, it's now up to them to keep it up, and they did, by using the trending hashtag #SarapnaBabalikBalikan.

It all started with just one seemingly simple but heartfelt testimony on social media. It only required one loyal customer to bring about an online surge and nostalgia, which encouraged others as well to flock to the nearest Tropical Hut branches for their classic burgers and meals. Most importantly, it only took one post of a happy customer to lead the brand's turnaround from the shadow to public awareness.

This case says a lot about the ability of social media as a tool for marketing. Good things can really emerge for the brand once the platforms are used appropriately and positively. Tropical Hut's resurgence tells us how we can engage with all these curated feeds and paid ads, but nothing beats an authentic organic marketing, especially if the posts are generated by satisfied customers.
Attracting traffic is easy. Producing good content, on the other hand, takes time and effort. Online Philippines can help you create innovative high-quality content that drives traffic by offering affordable social media training to businesses and agencies of all sizes (small, medium and large). We do this by taking a deep dive into your organizations' target audience's goals and needs and applying this information to produce engaging and memorable stories online via blogs, images, videos and more.