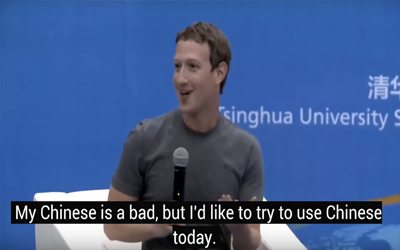 24 Jan

Mark Zuckerberg just became fluent in Mandarin while you were sleeping

In an interview with Facebook founder Mark Zuckerberg, the founder impressed attendees at Tsinghua University in Beijing by speaking (and joking) in Mandarin Chinese throughout the whole thirty minute interview. He discussed about connecting the world, Internet.org, innovation and the early days of Facebook. He also stated that earlier in the week, he joined the Tsinghua University School of Economics and Management's Advisory Board.

Quartz does a pretty good job in transcribing the basic points of the interview, as stated below:

The internet is very important:

"The majority of people who don't have internet, don't have the internet because they don't know why they want to use the internet. If you asked me—sorry, if I asked you—if you didn't have a phone, computer or internet and I asked you, 'Do you want to use internet?' You maybe would ask me, 'Why do I want internet?' So a lot of problems. But… internet creates work opportunities and economic development. Very important."

His three reasons for studying Chinese:

1) to speak with his grandma-in-law and other inlaws;

2) China is a great country, and he wants to study its culture;

3) Chinese is hard, and he loves challenges.

The next big things in tech:

"Facebook is 10 years old this year. So if I ask 10 years from now, what should we develop? I decided we should develop three things. First, we need to connect the entire world. We need everybody to use the internet. Second, we want to develop (in English) artificial intelligence. I think 10 years from now computers will be better than humans at reading, listening, talking, and other things. So we are developing this. Third, when everyone is using mobile phones, I believe the next platform will be (in English) virtual reality. Oculus is the first product, but we hope there will be many products. Those three things."

Advice to entrepreneurs: If it fails, try again.

"I feel that the best companies are started not because the founder wanted a company but because the founder wanted to change the world…. If you decide you want to found a company you maybe start to develop your first idea. And hire lots of workers. But you maybe have lots of ideas and you don't know which one is best. If the first idea isn't good, then your company isn't good. But if you decide to change the world you should try to develop more ideas. If any idea is very good later you found the company."

Facebook's plan in China:

"We're already in China. We help Chinese companies grow their customers abroad. They use Facebook ads to find more customers. For example, Lenovo used Facebook ads to sell its new phone. In China I also see economic growth. We admire it. (in English)It's, it's…amazing. We want to help other parts of the world connect to China, such as large cities, national parks, (in English) um, yeah."

His favorite color:

"I can't choose red or green, because Facebook is blue!"

Advice to founders: don't give up.

"I think the best thing to do is not give up. Founding a company is hard. Most of it isn't smooth. You'll have to make very hard decisions. You have to fire a few people. Therefore, if you don't believe in your mission giving up is easy. The majority of founders give up. But the best founders don't give up. Therefore, believe in your mission and don't give up—very important."

Is his Chinese better than his (Chinese-Vietnamese-American) wife Priscilla's?

"In Chinese, I know more words. But she also speaks Cantonese. Her listening is better than mine. Mine is really awful. One day I asked her why my listening was so bad and she said 'your listening is bad in English, too.'"

Clearly, Zuckerberg realizes the huge potential of Facebook in China, which is unfortunately censored or blocked in the country since 2009 stemming from the Ürümqi riots' activists using Facebook to communicate with one another. Renren social network (formerly Xiaonei) is China's version of Facebook, and is compliant to the PRC Government regulations regarding content filtering. It could be speculative that this move is Zuckerberg's way of courting China into possibly re-opening Facebook to its netizens.

As expected from the Facebook founder, doing the interview in broken, yet very commendable, Mandarin Chinese just blew everyone's minds. We will definitely be looking forward to Facebook's development in China, especially with globalization and the ASEAN integration coming up, our world is slightly getting wider and more accessible.