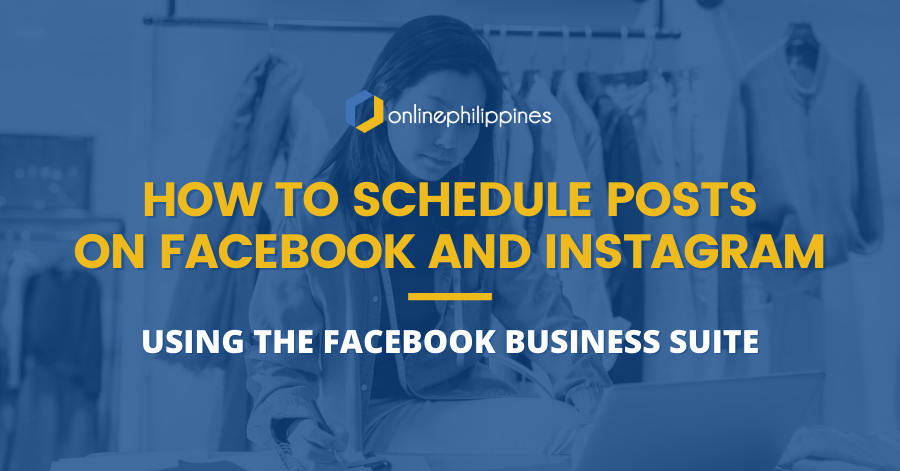 28 Sep

How to Schedule Your Posts on Facebook and Instagram

Are you overwhelmed with posting content on multiple platforms and waiting for the right time to do it? Have you tried looking for third party platforms such as Hootsuite or Buffer to schedule your posts? You can actually do that in Facebook's Creator Studio, but just recently, Facebook announced that they have launched the Facebook Business Suite. With the Creator Studio, you can create a post for your Facebook Page, schedule a time of day and date for the post to go live, then you would have to click on the Instagram account connected to the Facebook Page and repeat the whole process for Instagram.

With Facebook's Business Suite, you can now simultaneously create and schedule content on BOTH Facebook and Instagram, saving you lots of time, effort and definitely makes for a more efficient workflow.
Currently, Business Suite includes tools like posting, messaging, insights and advertising capabilities, improving the experience of managing a business across our apps. 

Facebook for Business, 2020
Here are the things the Business Suite can help you with:
Seeing all updates from your 2 platforms all in one page, whether those updates are likes, comments to your posts, or personal or direct messages, time saver indeed!
Create a post that you can crosspost into your two platforms.
Schedule content individually on each platform. (In cases where Facebook audiences have a different time when they are online, compared to your Instagram audience)
See your posts and page performance with analytics so you can see which posts worked and which ones didn't.
Create ads right from that profile, no need to click elsewhere!
So….how do we actually get started on using the Facebook Business Suite?
1. Link your Facebook Page and Instagram Business Account
In this quick guide you can see the step by step process of how to link up your Facebook Page and Instagram Business Account. Once you are able to successfully connect the 2 types of account, then you will be able to unlock the full use of the Business Suite.
2. Go to the Business Suite Dashboard
To access the dashboard, simply type in "https://business.facebook.com" If you only manage one Facebook or Instagram Page, then you are ready for the next step. However, if you manage multiple pages, you need to ensure to have the correct account selected on the left panel.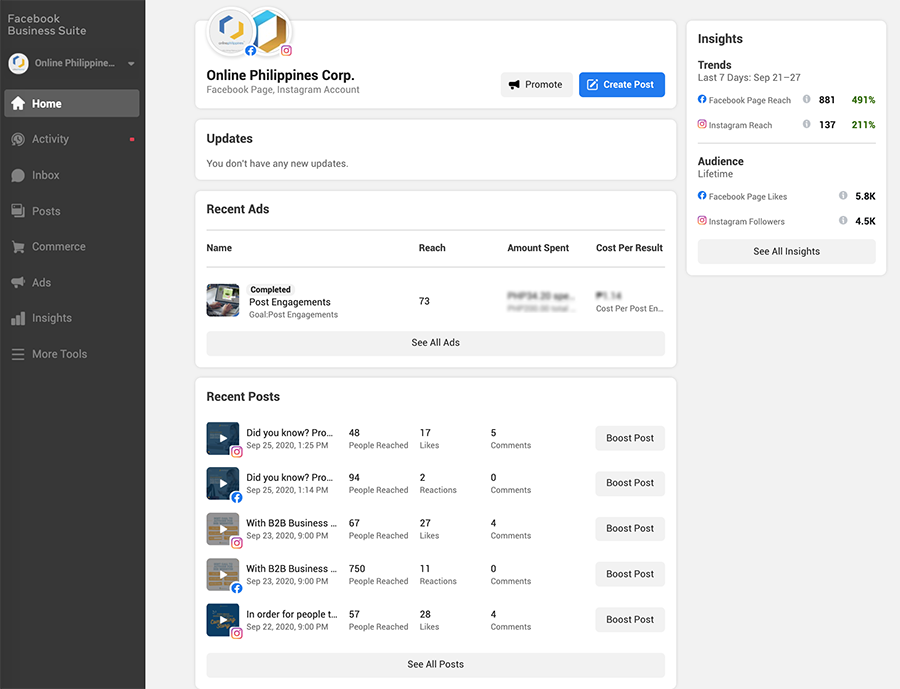 Create posts by sharing photos, videos, links that are of interest to your audiences. You can do this by clicking on "Create Post" right on the Home Page of the Dashboard.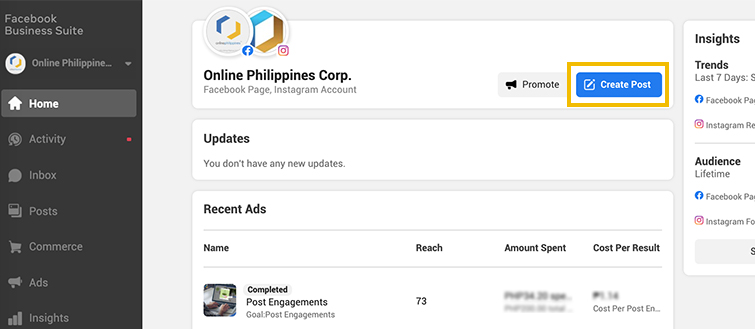 Keep in mind that there are certain limitations to the content format when you are crossposting on Instagram. For one you will not be able to select a Call to Action button such as the "Send Message" button on Facebook, and secondly, you will not be able to attach a link. You can however, paste the link onto the caption area of the field, but it will not be clickable on Instagram.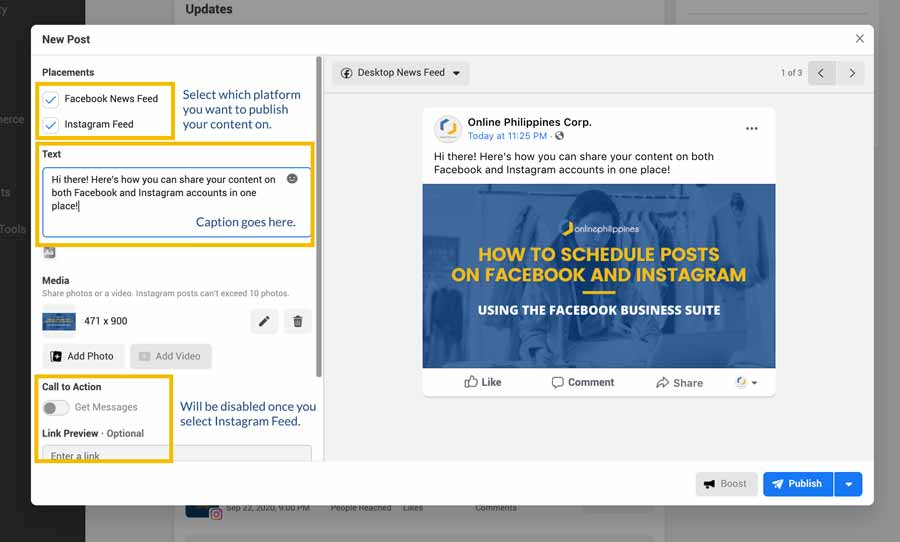 4. Choose to Publish Now or Schedule Your Post for Later
Different people login to their social media feeds at different times of the day, it it best to post when your target market is online. Often times, there may also be varying times for your Facebook and Instagram audiences. If you want to publish the content NOW, then go ahead and click the Publish button on the lower right side, however, if you wish to schedule your content, click the down arrow beside the Publish Button to show the schedule button.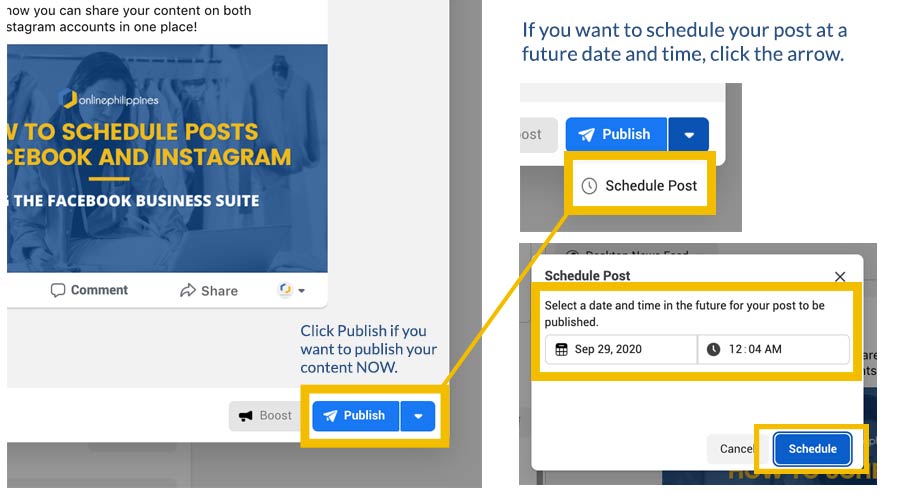 5. Monitor and follow the pattern of your best content
Now that you are able to post and schedule your content, it will definitely clear up some of your schedule so you can focus your time dealing with your customer inquiries and fulfilling orders. Don't forget to check back on your insights though, to see what posts worked and what didn't work, so you can optimize and tweak your future contents accordingly.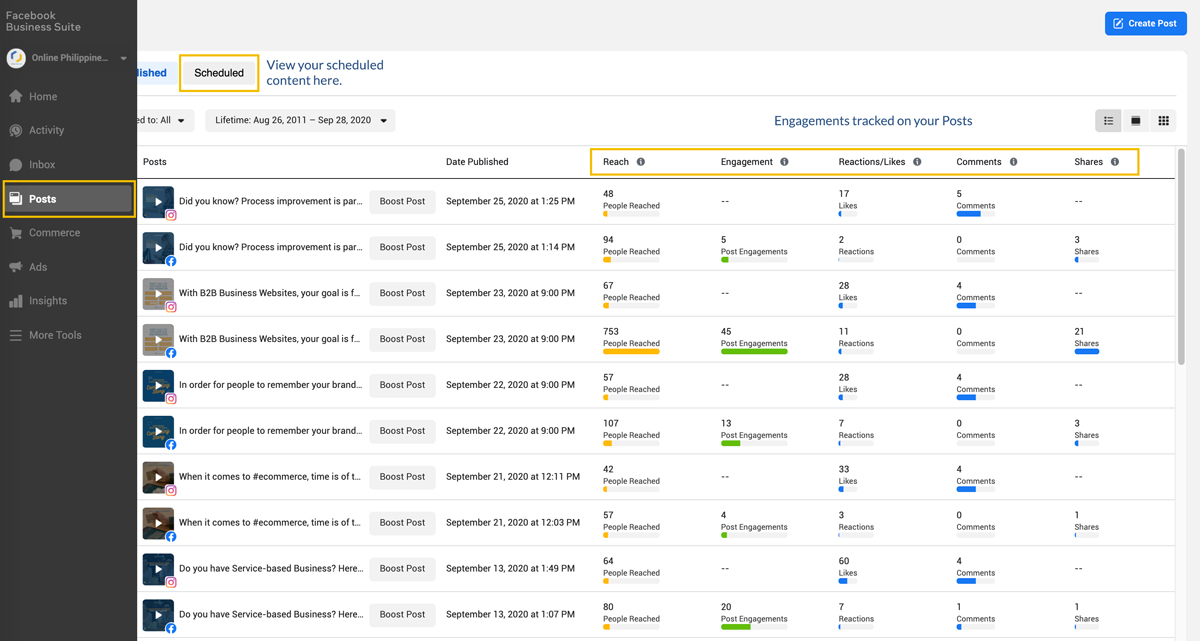 There you go, now you know how to create and schedule posts for Facebook and Instagram using Facebook's Native Business Suite Tool. Keeping up with your content schedule can be a meticulous and time consuming effort, so if you are interested in professional social media management services, we do offer that service, so feel free to contact us.