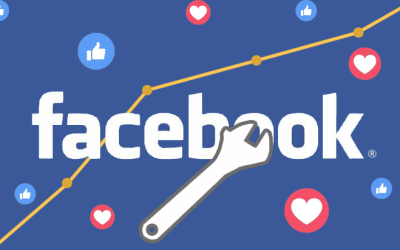 12 Dec

10 FREE FACEBOOK HACKS TO GET MORE ENGAGEMENT ON YOUR POSTS

Ever wonder how some brand pages are able to rack up 1,000,000 likes or shares on their Facebook posts? Or how deals and promos become "viral"? The secret of big brands is Facebook Advertising, where they pay Facebook to "Boost" their posts to specific target audiences or specific users depending on their gender, location, interests and online behavior. However, not all businesses have the capacity to shell out additional capital for paid advertising, so what can a startup do instead? Here are a 10 Facebook Hacks to improve your posts visibility and engagement, so you can promote your products to the right people and at the right time, and all at ZERO COST.
Facebook Hack #1 Use Good Quality Photos
The foundation of the "look" your page depends on the quality of your photos. If you do not have enough funds to hire a studio for a a photoshoot, you can use any plain white background such as a DIY lightbox such as the photo below. Use proper lighting and shoot with any high megapixel camera. Photos that are too dark, blurry, or in cluttered background, suggest poor taste and quality, which lowers the perceived value of your products. Even without hiring a graphic designer, you can already create a compelling Facebook Business Page with just good photos.
Facebook Hack # 2  Choose the Right Username for your Page.
When you first create a Page, you are given random ID numbers as your temporary account. Once you have complete the process for creating the Page, you can go under "Settings" and choose a username that is either your brand's name or your tagline (if your tagline is less than 3 words). Your username should be easy to remember, does not include symbols, and best represents you. Your username after all, is part of your branding.
You'll need to be an admin to change your Page's username. Keep in mind that if you or another admin has already changed your Page's username, you won't be able to change it again.
To change your Page's username:
Go to facebook.com/username
Below Create your Facebook web address, select a Page from the dropdown menu
Type a username and click Check Availability
If the username is available, click Confirm
Facebook Hack # 3 Use the Preferred Audience Feature
First rule of Marketing is to know who you are talking to. Take a piece and paper and write down all the answers to these questions pertaining to your target customers:
What is the age range?
Gender?
Interests : What are the things they are usually interested in? Hobbies?
Buying Power: Can they afford your products?
Location: Where do they usually hang out? Are your products/services easily accessible?
Once you have narrowed this down, you can now enter these data in the Preferred Audience Section whenever you post on your page's timeline. You can find it in the image below:
When you click on the symbol above, this window below will appear. Use this space to enter your audience's interests. These interest may or may not be related to you product/service as all. Remember, this is not about you. It's about who you are talking to.
After selecting the interests above, click the tab on the right that says "Audience Restrictions". In this section, you will select the gender, age range, and location of your target audience.
Remember, the more specific you are, the more targeted people get to see your posts. You are after the QUALITY not the QUANTITY. What is the use of 1 million people seeing your posts if only 50 of those are your actual customers? If targeting is done correctly, your post is now optimized, chances are you will narrow down your reach (people who saw your post) to 40,000 but 25,000 will be your customers. At the end of the day, the number that matters is how many people have you converted from being a viewer on Facebook to your actual customer.
Facebook Hack # 4 Know when your Audience is Online
It's important to know WHEN to post. By studying the habits of your Facebook Fans, you can determine when they are online, browsing around the News Feed. The best time to post is when they are online. You can determine this by checking out the "Insights" section of your Facebook Page. In this section, you can determine the day and times of the week your fans are online. Use that time slot to post your content.
In the image above, you can determine that the best time to post is at 9pm. As for the days, it's pretty much regular throughout the week.
Facebook Hack # 5 Keep your Post Catchy and Concise
In the world of less-than-goldfish-attention-span, you are not fighting against your competitors, but with the short attention span of your customers. Your goal is to catch their focus with visually appealing graphics and creative captions. No one wants a boring feed, so use colorful photos or videos to break the monotony of their News Feed. Using videos is twice as effective as photos especially with Facebook's autoplay feature. When we used videos instead of photos for one of our social media clients, engagements through likes, comments and shares tripled! This is a sample of one of our posts:

While the image or video is important, you captions are also crucial to KEEPING their attention. Avoid long paragraphs and remember K.I.S.S. – Keep it Short and Simple. Be direct to the point and avoid using words that are too complicated for the regular person to understand.
Facebook Hack # 6 Converse, Don't Announce.
A common mistake people have in creating their Facebook Page is that they do not interact with their customers. We post to converse, not to announce. Don't be afraid of negative feedback on your page. As discussed in one of our previous blog: 10 Things You're Doing Wrong on Social Media, you have to always respond to good AND bad reviews. Remember to thank your customers for leaving a feedback and repost their photos and videos (with their permission of course). Be ready to answer inquiries about your promos, products. No matter how repetitive those questions can be, have a little patience and take the time to address to each one. In fact, don't even wait for your customers to ask you, readily give them the information they need.
Facebook Hack # 7 Be Accessible
Whenever you post about a product or service, make sure to indicate how people can buy from you or contact you for more details. Offer multiple avenues for communication to give your customers options on how to contact you. Not everyone may be comfortable giving you sensitive information such as their contact details, in this case, invite them to send you a personal message. If they cannot use Facebook to communicate with you, offer another option such as your website, phone number, Skype ID, or your address. You have to adjust your target customers' preferences, not the other way around.
Facebook Hack # 8 Join Facebook Groups
Social media is meant to be social, which involves belonging to a community. No one can survive being sheltered alone in a bubble. Use your social media account to join and communicate with group members. Try to be as helpful as possible, offering your expertise, through advice and tips. If you are a travel agency for example, you can join travel-related groups on Facebook. Like and comment on posts that you like, join in discussions, reply to questions, and seek to gain the trust of the group members. Do not oversell to groups as you may seem spammy and a nuisance rather than a helpful resource. Be active in the community and have a mindset to HELP, NOT SELL.
Facebook Hack # 9 Include Your Social Efforts with On-Ground Promotions
Promoting online can seem "robotic" and monotonous, while it's important to inject some organic "real" content into your timeline. Encourage your customers to share their experiences with your efforts and take photos of your on-ground promotions. This not only gives legitimacy to your promo, but also encourages more people to participate in your promoted activity.
Facebook Hack # 10 Post Relevant Content
Finally, the most important tip we can give you to increase your follower base and boost your likes, comments, and shares on your posts is to provide GOOD and RELEVANT CONTENT. Follow the 80-20% Rule of Social Media Marketing: 80% of your posts should be things RELATED to your product (ex. Product: Shoes , Related Content: Style Tips, Shoe Care, Fashion OOTDs), and only 20% should be about your actual product. Why is it important to mix up your contents? Because people do not use social media to get commercials. You have to post things that are of interest to your market but not directly sell to them.
Imagine walking in a market, don't you get annoyed when people approach you and push their products to you while you politely say "no, thank you" and still have them selling to you unless you leave that area? Yeah, that's exactly what you are doing to your audience if you keep posting about your product. The harder question is how do you know if what you are posting is relevant to the audience?
To determine relevance, you must again, go back to Hack # 3: Knowing your audience. If you know who you are talking to, then you will know what sort of topics will be of interest to them.
In the sample below, we will use our posts for our Social Media Marketing client, SUKI Shoes. While their main product line is their shoes, we posts a variety of content that speaks to the fashion-loving demographic.
So what do you think about these 10 Facebook Hacks? Easy right? All it takes to get rolling with your content is to build the foundation of where all of your content will be based on. Once you determine your target audience's characteristics, it will be easier to put yourself in their mindset. The best thing about these hacks is that they are all FREE to do. Just proves that it's not all about the budget. So try out these hacks and let me know if it works out for you in the comments section below! Would love to hear your thoughts.
Interested in having your Facebook Page professionally managed? Click here to learn about our Social Media Marketing services.
< Back to Blog                                                                                                         GET A FREE ASSESSMENT >