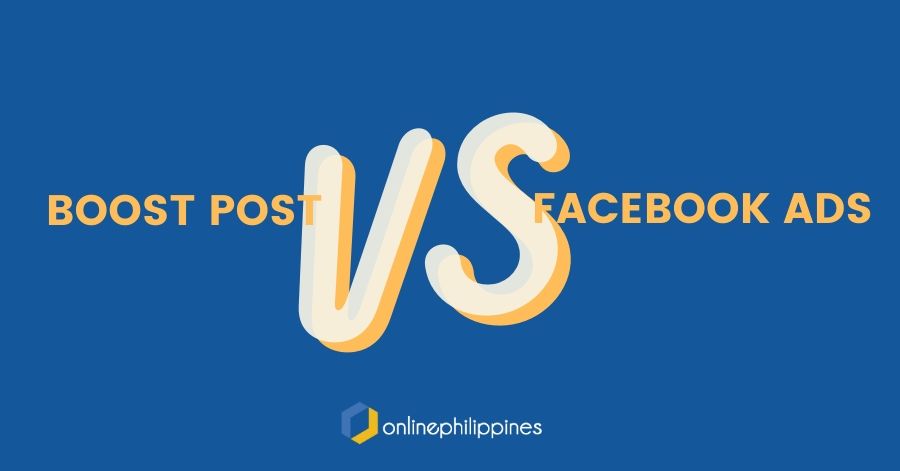 14 Jul

Boost Post vs Facebook Ads

Ever clicked on the Boost button on your Facebook post? How did it work out? If you are like most of our followers who messaged us about it, then you may have received a few likes but no sales or inquiries. This is the most common concern entrepreneurs raise about Facebook Ads. In this article, we will discuss why boosting posts is not as effective as using the Business Manager on Facebook, as well as give you some tips on how to create effective ads.
EFFICIENCY AFFECTS YOUR BUDGET
We all know that as entrepreneurs, realistically speaking, the marketing budget takes the first hit when other aspects need more financing, specifically when it comes to operational cost. Not everyone can compete with big companies who have a significant budget for Ads. In Facebook Ads, it's not a battle of "who has the most money" but, "who can use the Ad platform wisely". The goal of creating an ad is to get the most desired result, whether it's people messaging, visiting a website, installing an app, etc. A budget of Php 10,000/Month will get you the same result as a multinational company spending Php 100,000. The efficiency of your Ads can either increase the result per cost of the ad or, help you reduce your overall ad budget.
Boosting applies to organic posts on your Page's timeline. The Boost button came about as a quick solution to entrepreneurs who want a little more exposure on Facebook, but have no time to study the Ads platform. However, as easy as it is to use, it is missing a few important components compared to the Business Manager on Facebook. Features that can make or break the success of your campaign. You can learn all about the difference of Boosting and Facebook Ads here. The following details below are from the Facebook for Business website.
Boosting: When you boost a post on your timeline, there are only three things Facebook asks from you:
Who you want to reach:you'll pick a target audience of the type of people you want to connect with
Your max budget:you'll tell us exactly how much you want to spend over the course of your entire campaign
How long you want to run your ad:once you click Boost and your ad is approved, people in your target audience will see your ad in their News Feed for the duration you've set
Facebook Ads: When you create an ad using the Business Manager, there are more options available for you.
Choose different ad placements:When you boost a post, you'll be able to check or uncheck whether or not you want to place your ad in Instagram in addition to Facebook mobile and desktop News Feed. With Facebook ads, you get the added benefit of choosing placements in Facebook News Feed side ads, Messenger ads, Instagram stories, instant articles, and Audience Network.
Use specific ad objectives:Choosing an ad objective early on will help you to focus on which campaign type best aligns with your current business goals. Boosted posts allows you to focus on website clicks, Page engagement and local business promotions, but the full ads system in Ads Manager lets you choose objectives like store traffic, conversions, and lead generation. You can also create and manage ads through the Ads Manager mobile app.
Maintain creative control: With Facebook Ads created through Ads Manager, you can design an ad that fits your goals. Create carousel ads, add specific descriptions and add a call-to-action button that'll drive more of your audience to take action. These are only a few of the creative and formatting options available in Ads Manager that aren't available when boosting a post from your Page.
Use advance targeting capabilities: Boosting posts let you decide on interests, age and gender for your ad targeting. This helps you reach people who most likely care about your business. With Facebook ads, you can use more advanced tools to create overlapping audience types, lookalike audiences and more.
The Business Manager of Facebook gives you more creative control of the Ad, and offers you more sophisticated methods of targeting based on your target market specifications. Of course, before starting with Ads, you must fine tune your targeting, ad copy, and image selection first, at the end of the day, the Business Manager is just a platform, YOU are the one who will dictate how to target the ads based on your marketing plan.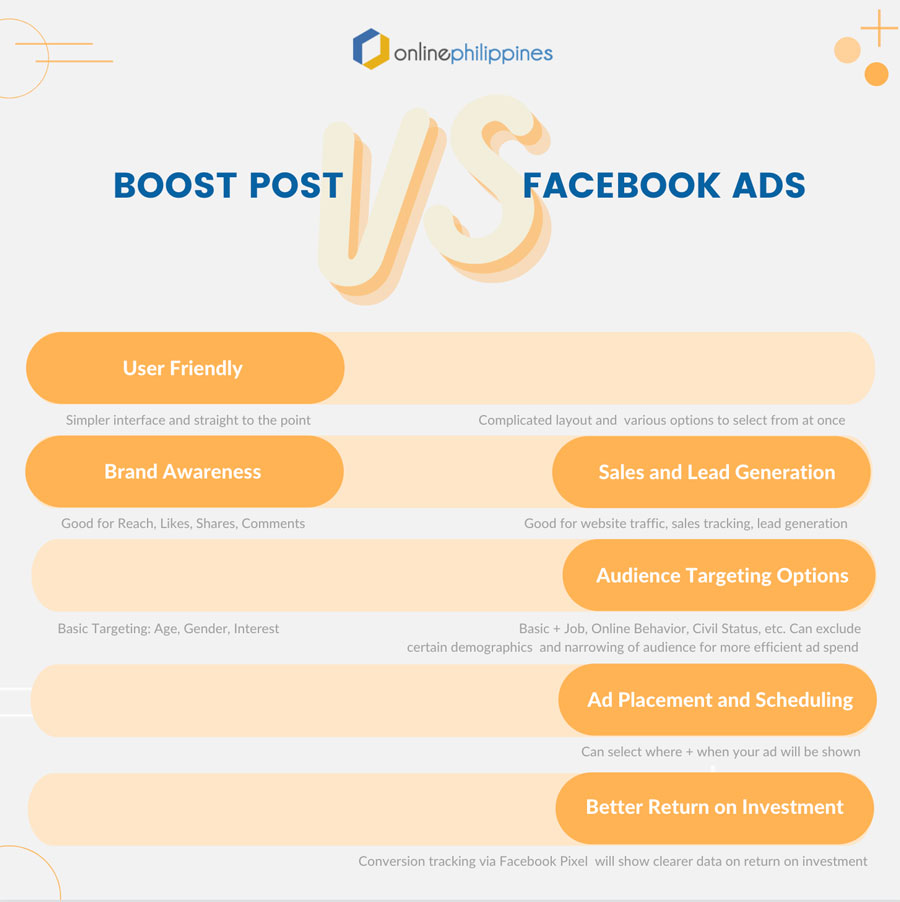 If your main goal is a hassle-free way to increase your brand awareness, then boosting of posts is good enough. However, if you really want to maximize your ad spending and make it more efficient, we suggest that you go with Facebook Ads. Making an ad spend "more efficient" means that you can maximize the results you can get with the same budget spend. So in a way, you can get better results for what you pay for.
What is your experience with using the Facebook Ads platform? Which one is easier for you?
Having a limited budget for marketing and promotions, you want to ensure that all actions you perform have a return of investment. The Business Manager offers features such as "Pixel" that followers the user's journey from clicking the Ad to actually purchasing a product, giving you are more concrete number on how many sales or leads your Ad garnered, which in turn, translates to ROI. If you have only 10,000 Pesos to spend on ads, would you want a generic approach that'll get you maybe 500 likes only, or use the business manager, and have 50 actual converted sales on your ads? You're going to be spending the same amount anyway, might as well make the most out of that budget.
Interested in increasing your social media skills? Our Social Media Masters workshops can train you and your team to manage your social media pages and even run hypertargeted Ads. Click the link above to learn more.
For companies who wish to have someone manage their accounts, our Social Media Management service will handle everything for you, so you can focus on running your business.