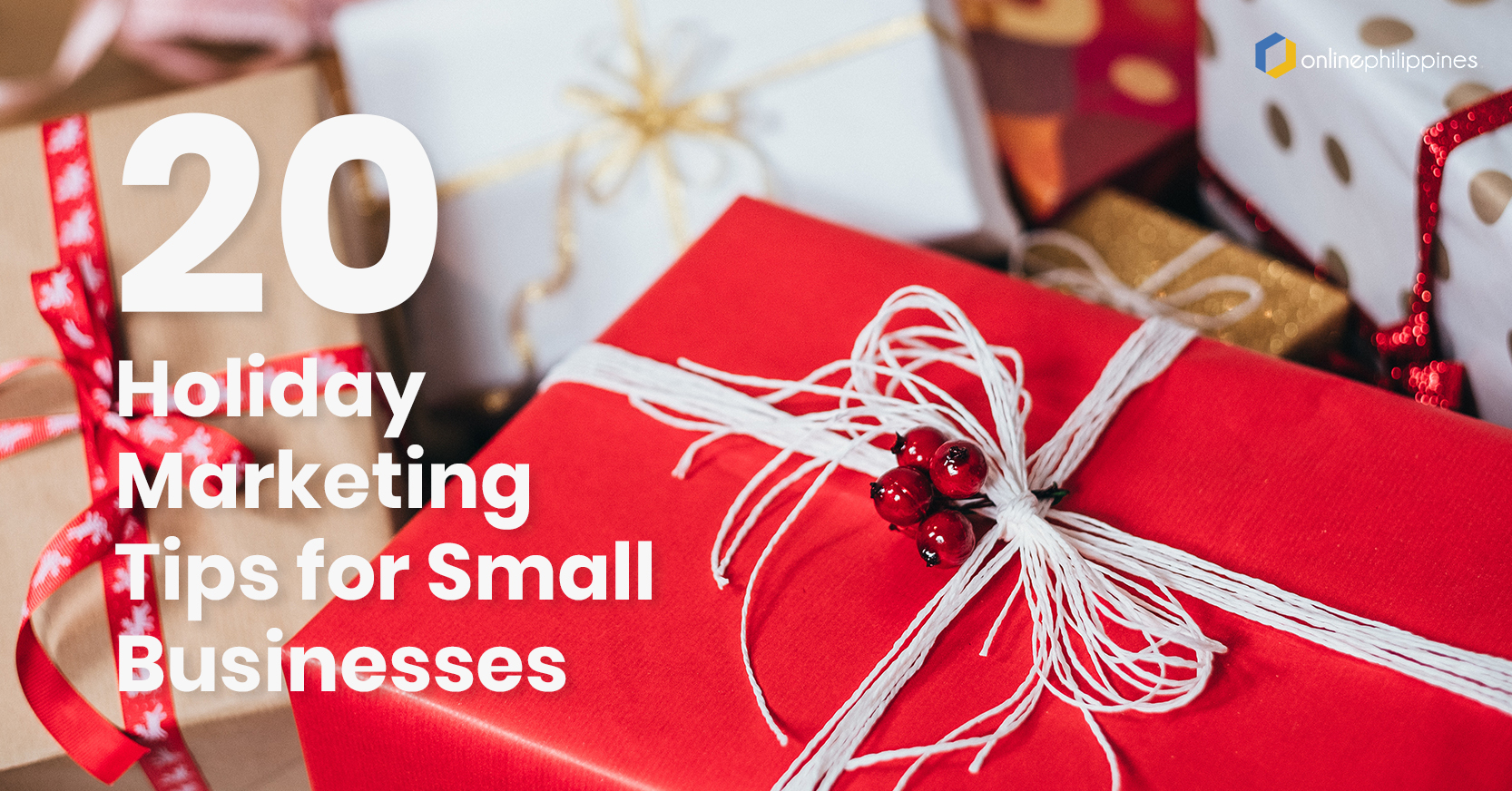 11 Oct

20 Holiday Marketing Tips for Your Business

Holidays are coming and it is now time for you to spice up your social media marketing strategies! Start growing your social media accounts organically and consistently engage with your audience. In this article you will be seeing some tips and ideas that you can do to boost your sales this coming holiday season.
1. Create a festive social media theme
Change the theme of your social accounts according to the occasion, add a santa hat to your profile photo, use a creative frame, change the cover photo or Instagram Highlights to a holiday themed-design.
2. Feature a touching holiday story
Obvious advertising would be really off during the holiday seasons. Social media users enjoy reading stories and brands can make use of this by storytelling instead of directly promoting themselves. Make the customers the hero of your story.
3. Post a gift guide for your customers
Shoppers would mainly search for gift ideas during the holidays, so posting a gift guide could lead them to your page. Sort your items by price so that budget conscious people or those looking for kris kringle gifts can have ideas on what to give based on their budget.
4. Talk about next year's trends
Some people may be curious and are looking forward to what might be trending next year. Most curious cats will spend a lot of time on the internet trying to browse for articles and posts that talk about future trends. It's a great chance for you and your page to get discovered by these audiences.
5. Post relatable, humorous, and funny contents about the holidays
These types of posts drive engagement to your page and keep your audience happy, which is very much needed this time around. Relatable memes about your target audience's culture will help them relate and engage with the brand's page.
6. Use the hashtag #24Days
What makes people excited during the holidays? Countdowns! Countdowns create a sense of excitement and urgency. Come up with your own gimmick and type of countdown, this will build anticipation and will give your audience something to look forward to.
7. 'Caption This!' thread
Post a holiday themed photo and ask the audience to comment their own captions for the photo. This is a great way to encourage audience participation, add some fun to the page, and keep them entertained.
8. Create a holiday photo album
Photo albums on Facebook get 180% more engagements than any other posts. You can create an album that contains Holiday Collection Photos or you can even ask your audience to pass their own holiday photos and feature them on your page.
9. Virtual office/workspace  tour (Holiday themed)
Many people enjoy watching virtual tours and it is an engaging social media content. Showing your holiday workspace also promotes a sense of community among your team members and also shows your audience your organization's culture.
10. Select the right social channel
Look at your audience carefully and figure out what social channel fits them best. What social channel do people use the most during the holidays? Where do they look for holiday related contents? These are just some questions you have to consider while looking for the right social media channel you could use during the holiday season.
11. Target specific and appropriate audience
Make sure to expose your content to people who are actually interested in what you're offering. For example, joining a specific Facebook group whose members seem to be interested in your product or service. Facebook groups are a great way to engage the community and introduce them to your products since they are already grouped by their interests. Are you targeting moms who are looking for games for their kids this Christmas? Knowing your specific market will help you create specific posts for that market.
12. Holiday Packaging and Limited Edition Items
You can also offer a limited edition holiday packaging for your products so that your audience can use them as gifts. Offering gift sets with a combination of your products with nice packaging will make it convenient for your customers to choose gifts for their friends without having to buy additional gift wrapping supplies.
13. Offer a coupon code for your current customers
Offering a one time code such as "SANTA10" for 10% discount on your website of shopping platform channels will encourage your current audience to start their Christmas shopping earlier!
14. Ride with the wave during Monthly Holiday Sales
Offer a promotion during 9-9, 10-10, 11-11 and a last minute sale on 12-12. People already know of these events, so you don't need to spend your marketing budget on introducing them to these sale dates, all you need to do is be present and inform your audience of your upcoming sales.
15. Host a Christmas Elf dance challenge!
Nothing like a TikTok challenge to bring in some holiday fun into your campaigns. It is now time for you to expose your brand to the most used social media app at the moment. Ask your audience to post their own video using your hashtag and use that as a giveaway!
16. Share your family's favorite holiday activities
You can talk about your family's favorite holiday activities with your audience. This way, they would feel a lot more close to you. You can also ask them to comment about their holiday family traditions to create a discussion and engagement on the post.
17. Post a list of DIY Holiday Decorations for Home and Office
Help your audience to decorate their home and/or office by giving them some DIY Tips. This can also be a fun holiday activity that they can do with their family members. You can also suggest some themes and inspirations that they can take as a model. Ask them to share their works with your hashtag and feature them on your page.
Create a post asking your audience about their wishlist and encourage them to share it in the comment section. For those with ecommerce websites, you can install a wishlist app or plugin so that users can create a list on your website and share it with their friends. You can ask them to tag their friends or family members whom they think would grant them the wishes they wrote.
19. Refer a friend to receive a prize
Host a holiday giveaway and ask participants to tag or mention their friends to win the prizes. Every three persons that they will refer to will be equivalent to one entry. For the announcement of the winner, you can host an hour-long event and give more exposure to your brand.
20. Holiday Flatlay Contest
You can ask your audience to create a styled flat lay photo featuring your brand. The top participants who will get the most engagements (e.g. reactions, comments, shares) will win special freebies. This is a good way to organically reach more people while getting them involved in your holiday campaign.
There you go! You are now ready for the upcoming holiday season. Boosting your sales is a great thing indeed, but what's more important is for you to be able to share the joy of holidays with your audience. Want to learn more about BER MONTHS PROMOTIONS? Join our Webinar on October 17, 2021 Sunday, 3-5pm, as we teach you how to plan your Christmas campaigns for your small business. Click Here to Register!