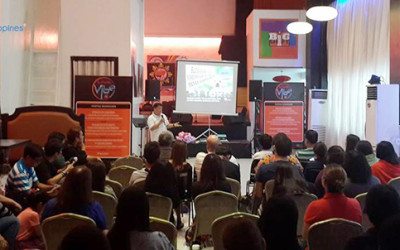 24 Jan

10 Ways to Achieve Blogging Success

The Professional Blogging Summit held at A. Venue, Makati City on October 18 was a cornucopia of social media specialists, from newbie bloggers, to people who live and breathe blogging, marketers, entrepreneurs, video bloggers, media, and of course, seasoned experts in the field of digital marketing.

Here's the top 10 take-aways from the summit on how to have a successful blog, and potentially make it a business.
1. Be Marketable.
In the world of open source blogging platforms, you have hundreds or even thousands of competitors in capturing the attention of your target. It is important that you highlight on what makes you unique, original, and different from the rest. Try to answer the following questions:
    What is my blog really about?
    What makes my blog different from the rest?
    What does my blog have that others don't?
    If there is one thing that my blog will be famous for, what will it be?
2. Quality trumps Quantity.
If you had a choice between posting daily vs weekly, choose the latter. Sometimes when you write a blog, you have to collect those ideas, and let them simmer for a while. You'll never know what insight you'll gain in a day or two, you can even spend those extra days adding some "meat" into your article, such as good photos, interviews, and more research to back up your data. When it comes to retaining readership and repeat visitors to your blog site, good quality posts always gets more mileage. You get more likes, shares, and reposts, which means more views and traffic from your fans's networks. Now, that's one way to expand your reach!
3. Haters gonna hate.
One of the issues that was brought up was bad blood between bloggers. As you rise from the crowd, you tend to be the victim of Crab Mentality, or the notion that no one can succeed if the other cannot. Unless you did something you know was wrong or unethical, you have to keep your head in the game and learn to ignore the bashers. Competition happens everywhere, may it be in business or your personal life, but you have to focus on what matters most. If you think you can be successful if you push through with blogging, then screw the haters, go for it! Just remember to stay true to yourself, have accountability for what you say and post (offline and online), have the proper netiquette, and have integrity in all things you do. If you have a problem with another blogger, you can always message them privately, email them, talk on the phone, or event meet with them personally. With this, you can avoid all the drama and gossip from your viewers and industry colleagues and settle your issues more effectively.
However, if it's a case of a rivalry between other bloggers, of which you are not directly involved, Azrael Coladilla of AzraelsMerryland.blogspot.com suggests not to meddle in other people's arguments, especially if your opinion does not aid in the resolution of the issue. In short, keep your nose where it belongs.
4. Expand your network.
One of the most important things for you as a blogger, is to realize that you cannot live on your own bubble and expect people to flock to your blog site out of nowhere. You have to join groups, projects, and even go to events to meet people who have the same interest as yours. As fashion blogger, model, stylist, and fashion designer, Joseph Cham states, you have to be visible. You have to let people know you exist. Do this by going to bazaars, launchings, opening, or any event related to your field (just make sure you're invited). Cozy up to Public Relations managers, advertisers, and even fellow bloggers, to make sure you get invited to their next meet ups.
Make sure you also do NOT burn bridges after any event or project, you'll never know when you're going to need these important people again. Keep in touch, stay visible in their eyes, and always be ready to meet and approach new people.
5. Cross-promote across different platforms.
In an ever increasing digital world, younger audience tend to have a shorter attention span. Not everyone has the time to be redirected to another page and finish reading a 500 word post. Sometimes, the best way to promote your post is to give them tidbits of information and then link out to your blog. People want information in an instant, so give it to them in small chunks that are more digestible and easier for them to process. Remember, small striking headlines catch more traffic that long article posts on social media.
6. Do your homework.
The worst thing you can do is to come to an event from a company who is paying you, and not learning about their brand. How can you promote something you have never heard of, right? Before coming to any event, make sure you have read up on the background of the company, their product, how they want their image to be portrayed, and who you will be talking to. Practice remembering names, it's also essential in networking.
As for writing your blog posts, it's important to know your audience. What do they like to learn about? Are they mostly male or female? Where are they coming from geographically? What language do they speak? These background information can help you tailor your post to a form that is most appropriate for your readers.
7. Let the numbers talk.
Posting articles and blog posts can't be your end game. You have to know which posts are trending, or is getting the most views, or even if your website has been getting enough web traffic. Be familiar with tracking tools such as Google Analytics (It's free!). When you present your blog to advertisers, they will be asking for these data, and tools such as Google Analytics can collate and summarize all the data for you.
8. Focus.
Most bloggers do not start of writing full time. There are a instances where writing becomes second priority to other things. Finding your focus can prove to be challenging. Pick the one topic you are most passionate about, as you are most likely to commit to the task and it will seem less "work" for you as you are already writing about what you love. Though you may different interests that you want to write about, start of with one so that you can put all your efforts into that genre. If you really want to expand you blog, make sure to gain enough traction and web traffic from your first blog before moving on to the next, so that you already have a loyal fan base who can help you spread the word on your new blog.
9. No one likes a gatecrasher.
It doesn't mean that if you have a blog, you can just show up to any event uninvited. When companies invite bloggers to their openings, or their events, they always have a set budget for each person. When you want to bring a companion, ask the PR guy or the person who invited you, if you can bring a guest. Having a blog does not give you a license to gain entrance to everywhere and everything. You are still human, after all. So if you want to attend an event, sometimes all you have to do is ask permission. Please respect the hosts, and remember to thank them as well for the invitation.
10. Step out into the real world.
The best thing about the Internet is the plethora of information that we learn daily. However, sometimes, we forget to apply the things we learn online, when we go out into the real world. Take advantage of what you learned and make sure to apply it offline. The world is your oyster, go out and explore places, meet new people, experience new adventures, and best of all, share these experiences with your friends and family.
Thank you A. Venue Mall, Island Rose, Island Rose, LiberatingJepoy, SaladBox and Profriends (Property Company of Friends) for supporting this activity.
Practice makes perfect, and no time like the present to start writing and sharing your thoughts with the world. So write away, future bloggers! We're excited to see what you can come up with. Share it with us by posting your blog link in our comments section.
< Back to Blog                                                                                                         GET A FREE ASSESSMENT >